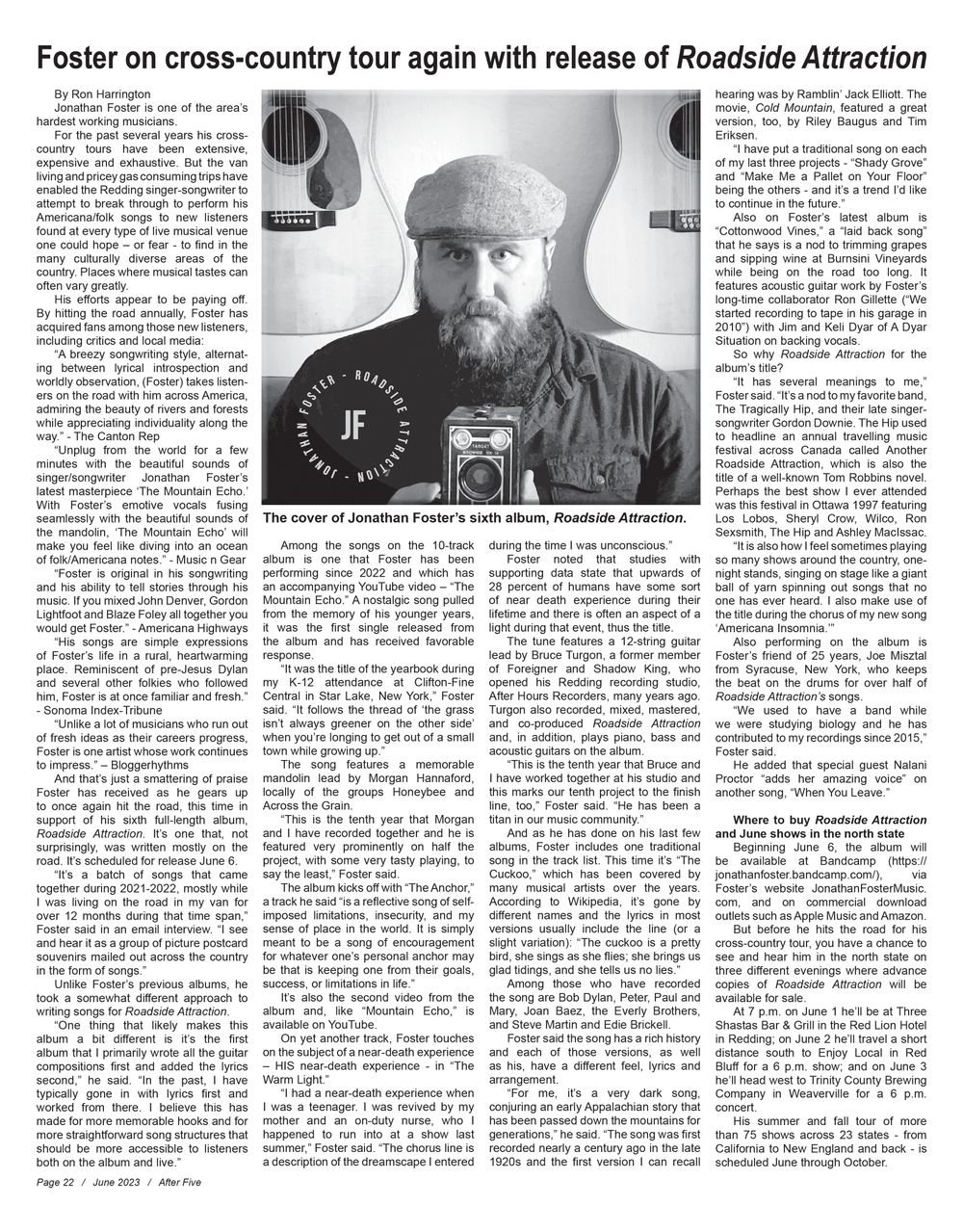 "A breezy songwriting style, alternating between lyrical introspection and worldly observation, takes listeners on the road with him across America, admiring the beauty of rivers and forests while appreciating individuality along the way." - Canton Rep, Best Music of 2021 
Authentic roots music for the ears of old souls - award-winning songwriter Jonathan Foster is a recording artist and touring musician from Cranberry Lake, New York (hometown) and Redding, California (current city). Over the past ten years he has released six independent studio albums, including his latest Roadside Attraction (June 6, 2023), and has performed over 600 shows on U.S. tours spanning the country several times.  His sound can be referenced as Folk-Americana with a strong vocal presence woven with imaginative lyrics, acoustic guitar, harmonica, and engaging songs that make you feel at home. Whether he's in the mountains, the plains or on a city stage you'll find this songbird singing. Jonathan enjoys sharing his music and stories from his travels at an intimate level mixing in observations of the people, places, and wonders of the world. Join Jonathan Foster as he explores and smiles his way through his musical journey and take his songs down the highway, water, or trail with you.
"Foster gets some pretty phenomenal snapshots of how humans interact through his different lenses, in a sense, he has struck a brand-new chord." - The Chronicle 1909
In his music you'll hear traces of his rural upbringing, geographic meanderings, and love of the outdoors with inspiration from John Prine, John Hiatt, Bob Dylan, The Band, James McMurtry, Todd Snider, Townes Van Zandt, Hayes Carll, Gillian Welch & David Rawlings, R.E.M., Mark Knopfler/Dire Straits, Paul Simon, Neil Young, Natalie Merchant, Tom Petty, Emmylou Harris, Bruce Springsteen, Warren Zevon, Tracy Chapman, Johnny Cash, The Decemberists, Lucinda Williams, Uncle Tupelo, and The Tragically Hip. 
"The California based folk artist got his start as more of a rock 'n' roll kid, but through influences like John Prine and Bob Dylan, landed on a softer, more old-fashioned sound in his solo career. That career has led to a decade of cross-country tours and several albums – all presented with a palpable level of sincerity. Foster isn't reinventing the folk-music wheel but adding layers of his own observations and lived experiences to the rich mythologies of blue-collar heroes and rural history." - Sandpoint Reader
Foster plays a Martin HD28 six-string with Elixir nanoweb strings and breaths through Hohner Special 20 harmonicas to give you that full of folk live music experience in the classic American singer-songwriter style that resonates bicoastal from the Cascade to Adirondack mountains. Please sign the email list to keep up with shows and recordings, follow along on Facebook & You Tube, request songs on you favorite radio station, Pandora, Spotify, Apple Music, etc. and see the photographic journey on Instagram -- thanks for keeping independent songwriters going on down the road!